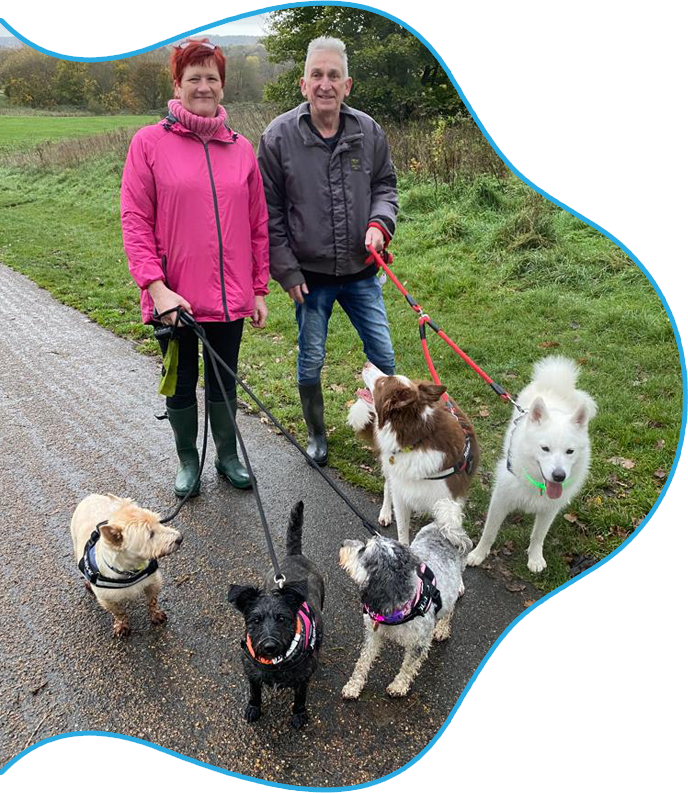 Hello, my name is Julie, my husband is Malcolm, over the last 12 years we have been adopted by our 5 dogs, Parsley (westie cross) and his pals Nutmeg, (Border Collie), Coco, (Cockapoo), Bramble, (Scottie Cross) and Luca, (Samoyed). As you can probably tell, we love dogs with a passion – and after 40 years in Nursing I decided to turn my passion into a profession.

We are offering a bespoke home from home dog boarding experience where your fur baby is invited to join us for either day care or a holiday and be part of our family until you return. We love to give oodles of cuddles, play and go on two walks a day, you can be assured that your fur baby will be loved, protected and kept safe as if they are our own.
A meet and greet is an important first step to see if home boarding is a match for both your dog and us. You will be able to meet our dogs in our home. We will introduce our dogs gradually so that your dogs are not overwhelmed. Once they have all said 'Hello' to each other and feel comfortable they can have a run around and enjoy a sniffari together in our home and secure garden.
One trial session is free of charge
Full day £25 per dog 
Half day £20 per dog (6 hours)
Home Boarding - Overnight
Home boarding is when your dog comes to stay at our house and lives as part of our family. We aim to maintain your dog's normal routine in a similar home from home environment which will help to reduce as much stress and anxiety for your dog.
Does my dog have to be vaccinated?
Yes, our dogs are fully vaccinated and we are required by law to prove that all guest dogs have current vaccinations against Canine Distemper, Infectious Canine Hepatitis, Canine Adenovirus, Leptospirosis (Lepto 4), Canine Parvovirus and Bordetella Bronchiseptica. All vaccinations will need to have been administered a minimum of 6 weeks before your dog stays with us. Your dog/s must also be on regular preventative treatment for fleas, ticks and worms – if their treatment is due during their stay with us, please bring this with you in its original packaging with signed veterinary instructions on the packaging and we will administer it for you.
This will help to protect the health of your dog and ours which will minimise the risk of cross contamination. Please be sure to bring a copy of your dog's full vaccination history and treatments for flea's ticks and worms' history before the stay begins.
Sadly no, unless they are over a year old.
Where will my dog/s sleep?
Your dog/s can sleep anywhere in the house that they feel comfortable, their designated room is our second bedroom where we have a king size bed which they can sleep on if they choose to. If your dog/s are anxious I will sleep in the room with them so that they are not alone. We do have additional dog beds which can be placed on the king size bed or on the floor – we will be guided by yourself and your dog.